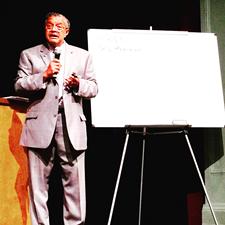 Elite Master Trainer Dr. Herbert Harris
Dr. Herbert Harris is an Elite Network Marketing Master Trainer.
With over 30 years experience in the industry as a distributor, top
earner and master trainer, Dr. Harris has developed and trained massive
organizations with thousands of representatives.
He has achieved top ranks at numerous companies including:
Master Trainer with the Bahamian Diet, Nation

al Marketing

Director with NSA (National Safety Associates),
and Elite Distributor/Trainer with LifeVantage Corp.
Dr. Harris is the author of "The Twelve Universal Laws of Success",
a success
guide book that is one of the "must read" books for the network marketing industry.